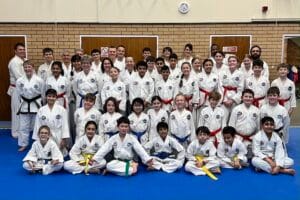 𝗔𝗹𝗹 𝗗𝗮𝘆 𝗧𝗿𝗮𝗶𝗻𝗶𝗻𝗴 𝟱𝘁𝗵 𝗠𝗮𝗿𝗰𝗵 𝟮𝟬𝟮𝟮
What a great day at the HSTS all day training today. Lovely to see a good turnout after what we have all been through and now returning to normality at last.
Excellent attitudes, practicing so much and more knowledge gained. All students covered their grading syllabus and put their minds at rest slightly. Now working towards the colour belt grading on the 13th March and the UTA black belt grading on the 18th March 2022.