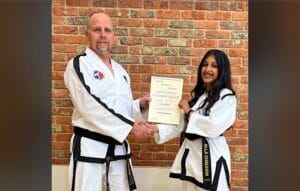 𝗝𝘂𝗻𝗶𝗼𝗿 𝗟𝗲𝗮𝗱𝗲𝗿𝘀𝗵𝗶𝗽 𝗔𝗰𝗮𝗱𝗲𝗺𝘆
HSTS Taekwon-Do run the UTA Junior Leadership Academy program with 10 junior leaders learning how to teach and assist at our various Little Dragons and Cadet classes.
After going through the UTA JLA program gaining some valuable feedback and experience Ella has now been accredited and graduated as a Junior Assistant Instructor.
Well done Ella another natural and gifted young leader with a fantastic future ahead of you.