UTA Competition 2022 Little Dragons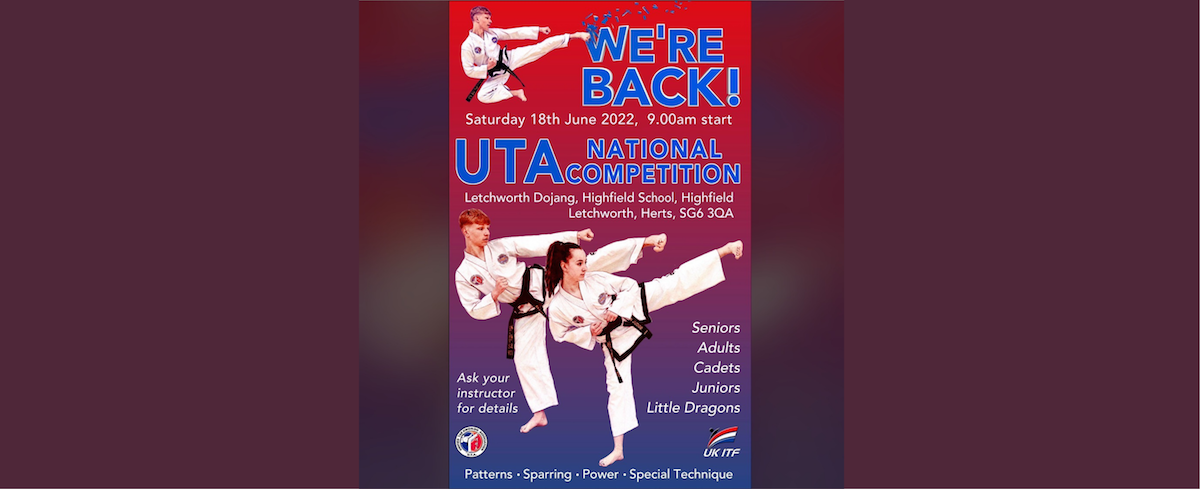 Event Date:
June 18, 2022
Event Location:
Highfield School
For the first time in over two years, we are having a UTA competition. This competition is for all UTA students from Little Dragons to seniors. This is to be held at Highfield School, Highfield, Letchworth. We will explain and practice what's expected of the Little dragons in their lessons.
This is a great opportunity to test your skills in a friendly competition with fellow UTA members helping to raise much-needed funds to enable the delegates who have been successful in being selected to represent the UK at the ITF World Championships this summer. Some of whom started as a Little Dragon and some are already national and international champions. One day you/your child might be in the same position.
The UTA take pride in funding its competitors through a selection process and events like these help that funding and enable us to offer this great gift.
LITTLE DRAGON COMPETITION STRUCTURE
The Little Dragons all have 30 seconds to show as many of their moves as possible.   Here are some examples of what they are currently practicing, stepping forwards and backwards.
White Belts/Yellow Stripes – open fist punch, obverse punch, knife hand strike, rising block, middle block, low block, x-fist rising block, x-fist pressing block, front snap kick, turning kick, side kick.
Green Stripes – 4 Directional Punch, plus techniques listed above.
Blue Stripes – 4 Directional Block, 4 Directional Punch, plus techniques listed above.
Red Stripes – Anything from Chon Ji, 4 Directional Block, 4 Directional Punch, plus techniques listed above.
Order of Play – Saturday 18nd June 2022
Officials Arrival and Set Up – 7.45am
Official's Briefing – 8.45am
Little Dragons White and Yellow 9.00am
Little Dragons Green/Blue/Red -10.15am
Black Belt Female Adults/Senior –11:15am
Cadets (U12's) Yellow/Green– 11:15am
Black Belt Male Adults/Senior – Start Time – 12:00pm
Coloured Belt Male/Female Adults/Senior –1:30pm
Cadets (U12's) Blue/Red/Black – 2:00pm
All Juniors – All Grades – 3:00pm
Please note that all times are approximate. These are guidelines to enable you to plan your day and arrive before your event.