ITF European Championships – Ireland, July 2019
Excitement levels were running high on the morning of Tuesday 23rd July for the eleven UTA squad members and their families who accompanied them to Luton Airport to travel to Cork in Ireland for the ITF European Championships 2019. The competitors met with Master Horan, Mr Owen and Mrs Owen bright and early in the morning – other than one family, who despite staying in a nearby hotel gave us concerns that they were actually travelling to the wrong airport! The students exchanged jokes and banter as the anticipation grew ahead of the biggest competition in twelve months; the competitive target for the students since the autumn nationals in October.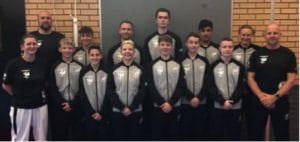 UTA competitors for Ireland 2019, with Mrs Owen and Mr Owen (left) and Master Horan (right)
After a short and uneventful flight – a welcome change for those students who travelled to Argentina for the World Championships in 2018 – we were welcomed with good-natured hospitality at Cork airport, and smoothly made our way to a coach to bring us to the River Lee Hotel, our comfortable base for the week. Such organisation would be a recurring feature during the week; we must thank Master Horan, Mr and Mrs Owen and UK ITF for making our trip such a comfortable experience. The competitors all weighed in successfully, with weigh-in running smoothly under the charge of UK ITF, and posed for a group photo before heading for a well-earned meal at Nando's in Cork city centre.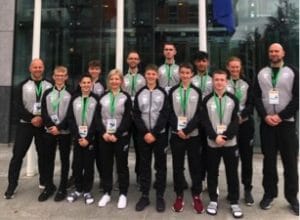 UTA competitors weighed in and ready to eat!
After getting an early night, we enjoyed a sumptuous breakfast at the hotel, loading with energy for the day ahead. Due to the midday start for the first day, we had opportunity to pack our kit bags and mentally prepare for the first day of competition. A coach collected the Team UK competitors for the 20-minute journey to Neptune Stadium, the venue for the competition.
Day One would see the Under-14 and Senior competitions take place. We were welcomed to the competition by the Lord Mayor of Cork, president of UK ITF Grand Master Nicholls, and Master O'Brien, who hosted us for the competition. Team UK settled into a corner of the arena and the competition got under way.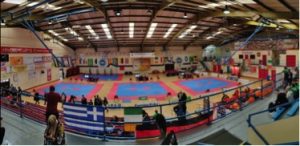 Neptune Arena, day one
The UTA had four individual competitors in action on day one. Team UK enjoyed great support from the delegation and UTA competitors collected a handful of medals on the first day, including an excellent performance in I Dan patterns by Mrs Claire Lacey, who became European champion in her international competition debut.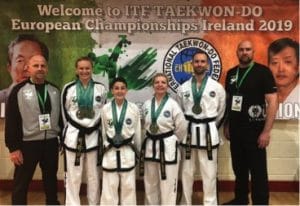 UTA individual medallists on day one
Day Two of the competition increased the intensity as the Junior and Adult divisions got under way. With a full day of events on the schedule, and larger numbers of competitors per category, we would enjoy a day of high quality Tae Kwon-Do skill. This was particularly true of the sparring events, where the competition was fierce. Nonetheless, Team UK and its UTA constituents gave us plenty of medal success to celebrate. Mr Leighton Callahan performed superbly in obtaining a silver medal in sparring, while we were treated to a UTA final in adult III Dan patterns, where Mr Elliott Callahan won yet another international title and Mr Lewis Lavery obtained a well-deserved medal.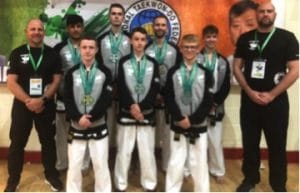 UTA medallists on day two
The third and final day of the competition would see the team events take place. While Team UK had not entered teams into the patterns event, we would enjoy seeing displays from female and male junior and adult teams in sparring, destruction and special technique. The UTA were represented in both male teams, as well as Mrs Kelly Rose captaining the young female adult team.
All teams represented Team UK with distinction and completed a clean sweep of gold medals in the sparring events. We were also treated to championship-winning performances in adult male and female destruction, and a bronze medal in junior male destruction. The junior female team also won every category they entered, despite having only three competitors. The UTA competitors were proud to contribute to the success of Team UK, who were awarded the title of best overall team.

Team UK, including coaches and umpires
Clockwise from top left: adult male team, adult female team, junior female team, junior male team
At the end of the third day, we were given the opportunity to show appreciation for the umpires, who enable the competition to proceed and had performed with professionalism throughout. The umpires' delegation included four senior umpires from UK ITF, including our own Mrs Owen. The umpires received a loud ovation as well as individual medals recognising their contribution.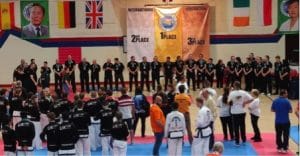 Umpires delegation receiving medals and applause
 After a long week of competition, we were fortunate enough to have a free day for sightseeing in this picturesque area of Ireland. The UTA group took a tour to nearby Blarney Castle, home of the famous Blarney Stone, a kiss of which is said to grant seven years' "gift of the gab". Only time will tell if this has worked; it has been said that some of us are talkative enough already!
Blarney Castle; and Master Horan kissing the Blarney Stone!
It has been a memorable and successful experience for the UTA competitors at this event. We would like to thank Master Horan and Mr Owen for their long-term efforts to develop and support all the competitors and their individual needs. Special thanks also to the parents and family members who support our competitors to attend these events around the UK and beyond. We look forward to the next Euros in Wales in 2022!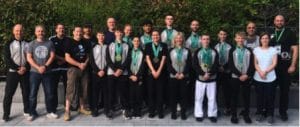 UTA delegation; competitors, umpire Mrs Owen, coaches Master Horan and Mr Owen, and family members