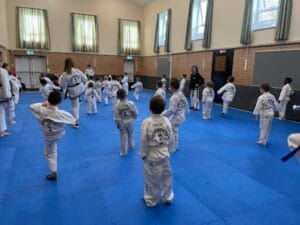 𝗟𝗶𝘁𝘁𝗹𝗲 𝗗𝗿𝗮𝗴𝗼𝗻𝘀 𝗛𝗮𝗹𝗳 𝗗𝗮𝘆 𝗧𝗿𝗮𝗶𝗻𝗶𝗻𝗴
Another fantastic Little Dragoons Half Day Training at HSTS Taekwon-Do today.
Great enthusiasm and attitude. Having fun training in Taekwon-Do at this age is so important for continued training to black belt and behind.
The development we have seen over the last 17 years of running our Little Dragons program is amazing. We have 3rd degree black belts and soon 4th degree black belts that started as a little dragons, not to mention European and World champions.
We have two more Half Day Training sessions scheduled for the summer holidays and one later in the year.
Book now below to avoid disappointment.