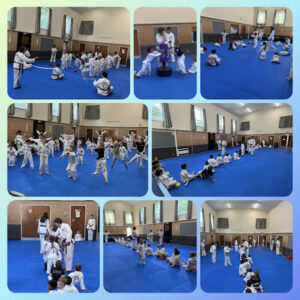 𝗟𝗶𝘁𝘁𝗹𝗲 𝗗𝗿𝗮𝗴𝗼𝗻𝘀 𝗛𝗮𝗹𝗳 𝗗𝗮𝘆 𝗧𝗿𝗮𝗶𝗻𝗶𝗻𝗴
What an incredible morning at the Hitchin Dojang today!
Our little martial artists had a blast during the half day training!
We had so much fun learning and practising various Taekwon-Do skills, including jumping the rope with impressive agility, showcasing our musical techniques with some rhythmic moves, and engaging in our Sabum Says!
Seeing these young talents in action was inspiring! Their dedication and enthusiasm to master the art of Taekwon-Do is truly commendable.
A big shout-out to our amazing instructors and JLA members for their guidance and support throughout the training session.
Let's keep up the great work and continue to embrace the principles of discipline, respect, and perseverance that Taekwon-Do teaches us.
𝙎𝙩𝙞𝙡𝙡 𝙥𝙡𝙖𝙘𝙚𝙨 𝙤𝙣 𝙩𝙝𝙚 25𝙩𝙝 𝙊𝙘𝙩𝙤𝙗𝙚𝙧 𝙃𝙖𝙡𝙛 𝘿𝙖𝙮 𝙏𝙧𝙖𝙞𝙣𝙞𝙣𝙜-
BOOK NOW