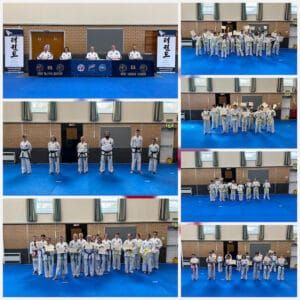 𝗖𝗼𝗹𝗼𝘂𝗿 𝗯𝗲𝗹𝘁 𝗴𝗿𝗮𝗱𝗶𝗻𝗴
& 𝗕𝗹𝗮𝗰𝗸 𝗯𝗲𝗹𝘁 𝗮𝘀𝘀𝗲𝘀𝘀𝗺𝗲𝗻𝘁𝘀.
On the 13th March 2022 at HSTS we had one of the biggest gradings since before the pandemic and it felt great to see so many gaining so much.
With a high standard of technique, everyone performed to their best ability and gained more experience for future gradings.
Well done to all who took their grading and black belt assessment, now to learn our new techniques and patterns but most of all enjoy our training, gain confidence and change our lives.
Thank you also to our grading examiners for giving up their morning to grade our students.