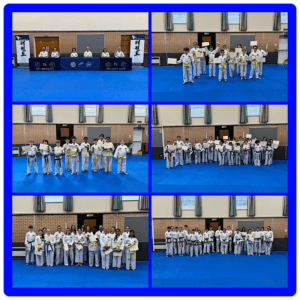 𝗖𝗼𝗹𝗼𝘂𝗿 𝗯𝗲𝗹𝘁 𝗴𝗿𝗮𝗱𝗶𝗻𝗴 & 𝗕𝗹𝗮𝗰𝗸 𝗯𝗲𝗹𝘁 𝗮𝘀𝘀𝗲𝘀𝘀𝗺𝗲𝗻𝘁𝘀.
11th Dec 2022
Today saw the last grading of 2022 with nearly 100 students from HSTS Taekwon-Do either grading or taking part in one of their black belt assessments, achieving the next goal in their Tkd journey.
It's great to see so many different students developing in many different ways through training in Taekwon-Do. Confidence growing, patience being taught and perseverance observed.
Now continued training for the next ones in 2023.
Thanks to the HSTS grading panel:
Master Horan 8th Degree
Mrs Williams 6th Degree
Mrs Oakley 5th Degree
Mr Oakley 5th Degree
Mrs Rose 5th Degree
Mr Rose 5th Degree