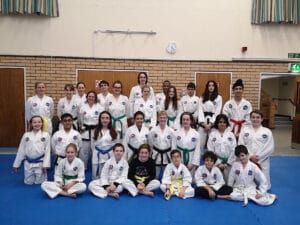 𝗔𝗹𝗹 𝗗𝗮𝘆 𝗧𝗿𝗮𝗶𝗻𝗶𝗻𝗴
3rd Dec 2022
The last all day training of the year, covering all the grading syllabus for their grade whether grading next week or not.
Once again students training hard for 6 hours with enthusiasm and the want to learn.
A big thank you to HSTS Instructors Mrs Rose and Mr Callahan for leading the days training.
If you enjoyed it or didn't manage to get a space this time book on tne next one in March 23 now and secure your place.
𝗕𝗢𝗢𝗞 𝗡𝗢𝗪👇👇👇👇
https://www.hsts.biz/events/all-day-training-03-23/