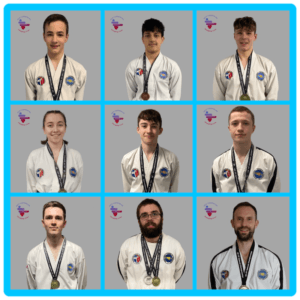 𝗛𝗦𝗧𝗦 𝗦𝗾𝘂𝗮𝗱 𝗮𝘁 𝘁𝗵𝗲 𝗨𝗞𝗜𝗧𝗙 𝗡𝗮𝘁𝗶𝗼𝗻𝗮𝗹𝘀
Great results from the HSTS Squad members who entered the
UK ITF
nationals in Thornbury on Saturday 5th February 2022.
After some hindered preparations with on and off training due to various reasons it was good to see the determination and indomitable spirit displayed by everyone who entered. Some squad members were missing and missed but the journey is long and there's always the next time.
Well done to everyone medal or not as you gained more valuable experience not just in competition but in your characters too.
11 competitors achieving 15 medals.
🥇 Gold U14 Male Heavy Weight sparring
🥉 Bronze U18 Male Heavy Weight sparring
🥇 Gold U18 Male Hyper Weight sparring
🥇 Gold Adult Female 2nd Degree patterns
🥉 Bronze Adult Female Middle Weight sparring
🥈 Silver Adult Male 3rd Degree patterns
🥈 Silver Adult Male Micro Weight sparring
🥇 Gold Adult Male 4th Degree patterns
🥉 Bronze Adult Male Micro Weight sparring
🥉 Bronze Adult Male 3rd Degree patterns
🥇 Gold Adult Male Heavy Weight sparring
🥈 Silver Adult Male Degree power
🥈 Silver Adult Male Hyper Weight sparring
🥇 Gold Adult Male Degree power
🥇 Gold Senior Male 4th Degree patterns