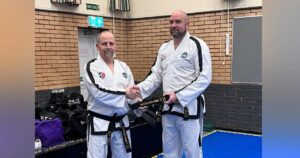 New Master at HSTS Taekwon-Do
Congratulations to Master Owen on the fantastic achievement of successfully passing his 7th Degree grading.
A great example of what this grade means. Training regularly every week, teaching a successful club, and coaching European and World Champions. A member of the UK ITF development committee, chairing the Umpires committee.
A humble and hard working Taekwon-Do practitioner, I am proud to call you my student, colleague, fellow Master and friend.